FASE is thrilled to present: The 40th Annual March Strings Fest!
Held yearly in the Boston area, the March Strings Fest is a much anticipated, fun-filled day for string students, their parents, and teachers. This year's guest artists, The Splinters will perform for members of the four festival orchestras and their parents. A good time is promised for all! Check out The Splinters here: https://www.splintersmusic.com/
Teaching Methods That Work
The originator of "Finger Patterns" and "String Cycle Form," Bornoff developed large-class teaching systems and strategies that are routed in proven educational psychology and that produce outstanding musicianship at every level of performance.
When I opened the files, there was EVERYTHING I wanted. Not just finger patterns, but early bowing with real rhythms, using real notes, on all four strings. It was like a light shining down on what I have been trying to do for years, and then there it was!
I keep calling it "insane magic!" The tone production in just a few lessons is incredible. And, the higher-level thinking skills surrounding the finger patterns! I cannot get over how much more my students are thinking about the relationships between pitch, whole and half-steps and fingerings. Their confidence is off the charts!!!
FASE's support has been foundational to the success of Ubuntu Music Project. Not only have they provided instruments, classroom supplies, and many other resources, FASE has also supported us with training and teaching supplies so that we can provide the best instruction possible. Thank you FASE for bringing music to the heart of Dallas!
Give the gift that lasts a lifetime – Music Education!
Over the past ten years, FASE has awarded more than $700,000 in direct grants and over $50,000 worth of materials to orchestra students and their teachers.
WE HELP VISIONARIES REALIZE THEIR DREAMS! by financially supporting school programs and focusing on start-ups and courses created for at-risk or underserved communities. In addition to tuition scholarships for children and adults, FASE provides special concert-going opportunites, chamber music study, and classroom supplies such as method books, instruments, accessories, and other support materials.
Donate today! towards our $7,000 goal and help us continue to fulfill our vision - "We believe music programs can transform the lives of students and their communities."
Donate $60 or more and receive your choice of a 5-pack greeting card set!
Read more about our grant programs here.
Subscribe to Our Email Newsletters
The Bornoff Approach Primer
Designed as a step by step guide for directors who have limited experience with the Bornoff Approach, the Primer establishes procedures, qualifies expectations, and influences the mindset for all future instruction.
The Bornoff Approach provides a detailed, overarching philosophy on education and proven teaching techniques that will help your students thrive. It includes an organization of specific sequential exercises and repertoire -for beginners through advanced players- that offers numerous options so that you, the teacher, can adapt its components to best suit your students.
A Primer
The essential guide to Bornoff's unique approach to strings instruction.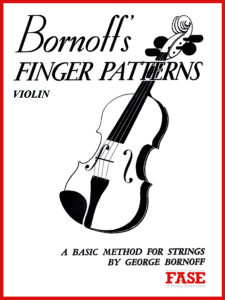 Finger Patterns
Master finger patterns and shifting for violin, viola, cello, and bass.
Patterns in Position
Intensive double stops, harmonics, scales and arpeggios.
Pure Technique
Two and Three-Octave scales and arpeggios for violin, viola, and cello.